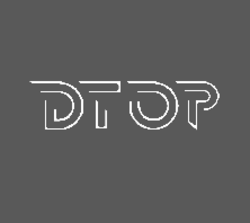 DTOP Token
Project Phase I – Development of Data Trade On-Demand Platform (DTOP) Ecosystem This is a stage where 3 things for the various types of data created through DataFarm operated by individuals is created for the devices installed on locations of desire.(1)Providing of technology solution, (2)development of blockchain platform for creating a DTOP ecosystem creation and encouragement of individuals to self-contribute their data through a DTOP-Native coin reward system and(3) an online marketplace for these accumulated data to be guaranteed of their individual ownership, traded and sold to purchasers (corporates, research institutes etc.) so contributors can be rewarded in coins that can be converted into FIAT currency. Project Phase II – Jumpstart of Value Co-creation Process based on DTOP Ecosystem After achieving the first target in establishing the DTOP ecosystem, a new business model in 'Value co-creation' which creates value together between ecosystem participants and corporates will be created.
Best Day of the Week
Monday is historically a good day to buy DTOP Token.
Wednesday is a good day to sell DTOP Token.
🐂 29.4084% avg. on Wednesday
🐻 -1.8921% avg. on Monday
Best Day of the Month
Day 15 of the month is historically a good day to buy DTOP Token.
Day 16 of the month is a good day to sell DTOP Token.
🐂 74.0403% avg. on day 16
🐻 -5.5974% avg. on day 15
Best Day by Month
Heatmap of Average Returns (%) of DTOP Token
Daily data based on UTC time, 0 hr behind your current time.
Calculated from 509 data points from Fri, 05/8/2020 to Fri, 10/22/2021.